Meet Our Donors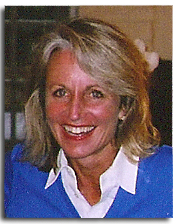 The Heroics of Scripps
La Jolla resident Kim Doren is a charismatic Scripps Research supporter committed to the organization and its life-saving work.
Kim, an annual contributor to Scripps Research who has included the organization in her estate plans, is also an active volunteer working to broaden Scripps Research's outreach among donors and in the community.
Kim has an extensive background as a communications, marketing, and advertising executive in the golf industry.
Through Kim's leadership and marketing skills, she played a key role in developing and implementing a recent survey of Scripps Research donors on planned giving, and in putting together a planned giving seminar for donors and prospective donors.
"I'm really pleased to put my marketing skills to use to help Scripps Research in the community," said Kim.
Kim was first introduced to Scripps Research by scientist Jeffery Kelly eleven years ago, and attended several Scripps Research events about the same time.
"My minor from Stanford is in human biology," said Kim. "I was fortunate to be educated by top professors who shared cutting edge medical research with us. I found it fascinating. Although I can't save the world in my day-to-day career, I feel I can make a huge impact through supporting Scripps Research and the incredible science performed there. I'm a huge fan of the Scripps Research scientists. They do heroic work."
"I'm also a firm believer in basic research - great discoveries that can treat human diseases are often made while scientists are looking for something else. It's a shame that more people do not support basic research."
Kim is the co-author of several books with Charlie Jones, the late NBC sportscaster, including You Go Girl!, The Winning Way, That's Outside My Boat: Letting Go of What You Can't Control, and Heaven Can Wait: Surviving Cancer.
"The books were really fulfilling," said Kim. "It was great to follow up You Go Girl with a speaking tour that inspired young women, and I'm sure that our cancer book was helpful to many who have been afflicted with this devastating disease."
Kim is very involved in the community. She serves on the UC San Diego Athletic Board, and is involved with both the San Diego Foundation and the Foundation of La Jolla High School. "My parents were always active in nonprofit organizations and they instilled the value of volunteering in me," said Kim.
"We are so fortunate to have Kim as a donor and advocate," said William Burfitt, Director of Philanthropy. "She is a consistent supporter who is dedicated to the important mission of Scripps Research and helping us grow."