Meet Our Donors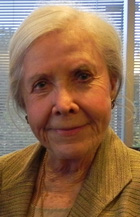 The Work of Scripps
Helen Dorris is a welcome guest at The Scripps Research Institute. Busy researchers greet her in the hallway and stop to discuss current projects. More than a supporter, she is their friend.
Helen takes a keen interest in the neurosciences and has helped bring several researchers to Scripps Research to explore the mysteries of Alzheimer's, schizophrenia, and other brain disorders.
She is proud of the research she supports but shies away from taking any credit.
"What's important is the work these people are doing," says Helen. "They should have the glory."
Helen has made gifts of real estate to Scripps Research to establish a fellowship to study schizophrenia and to create the Dorris Neuroscience Center.
The Center, now the home of some of the world's top brain researchers, studies the pathological basis of neurological and psychiatric disorders and works to discover promising new therapeutic approaches.
`