Meet Our Donors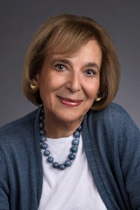 Julie Hill: Shedding Light on the People of the World … and the Value of Medical Research
Julie Hill is a happily footloose world traveler and author with a restless love of adventure, but she has faced challenging times as well.
An Alexandrian Greek, Julie met her late husband, Arthur, an Australian, when both were in graduate school in America. It was a golden marriage of 43 years, she says. Work opportunities brought them to faraway places with names that began to enter international consciousness only decades later — Thailand, the Philippines, Western Samoa and Afghanistan. Arthur represented the Ford Foundation and later on the United Nations Development Program, while Julie entered the corporate world of AT&T.
In 1986, Arthur had been diagnosed with a rare blood cancer known as hairy cell leukemia. He was treated with alpha interferon, but his immune system was compromised, and he lost so much weight he appeared skeletal. He was not expected to live. He read an article in The New York Times about TSRI's development of 2-CdA (now marketed as Leustatin®) for the disease. He came to La Jolla and became patient #66 in 2-CdA clinical trials. A week later, his physician, Dr. Alan Saven at Scripps Health, told him that "there was no more circulating hairy cell leukemia." He remained disease-free for almost 12 years until he passed away from other causes.
"Sometimes it's difficult to be a believer, but I'm a true believer in TSRI," said Julie, "I'm convinced of the value of its research – it saved my husband's life. I'm also impressed with the inspiring enthusiasm of the young scientists I met at TSRI. "
In the ensuing years after Arthur's treatment, he and Julie became major donors to TSRI. She remains a contributor, creating a bequest and a charitable gift annuity to benefit TSRI in hopes that her support will result in an endowed chair for cancer research for a young scientist, leading to development of more treatments like 2-CdA.
Julie has spent the past four decades exploring the planet and writing about it. Fluent in five languages, she authored the book Promises to Keep in 2003, after her husband's death, followed a few years later by her second book, The Silk Road Revisited: Markets, Merchants, and Minarets. This year, she published her third book, Privileged Witness: Journeys of Rediscovery, where she takes us in hand on her journeys around 20 countries, from Asia to Africa. Although she has met many foreign dignitaries, what's really rewarding for her is the interaction with the common people, be they tribesmen, children, or just ordinary folks trying to make a living and carve a better life for their children.
"In my travels I have discerned a similarity among people who bear the same universal aspirations: all want their children to lead a better life and have a better future than theirs; they all cry, laugh, eat, worry and die," said Julie. "We share so much, but still have to work at understanding one another. When I travel to India, I meet kids on the road. What do I ask beyond "What is your name?" So I have learned the names of India's leading cricket players – the better to open a conversation with those boys who loiter on the temple steps."
In the nine months of the year that she's home, Julie mentors graduate students at the UCSD Graduate School of International Relations and Pacific Studies. She enjoys sharing her wisdom with these students of various nationalities. "They have become my extended family," she said.
Julie also spends time with TSRI graduate students, offering thoughtful insights based on her international experience on leadership, women in the workplace, negotiation tactics and inter-industry transferable skills.
By investing in young "up-and-coming" scientists, Julie Hill is both providing a meaningful tribute to her late husband, Arthur, and playing a critical role as a true partner in medical research.