Meet Our Donors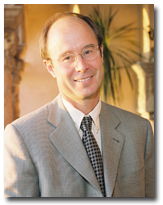 Giving Back to Scripps
Jeffery Kelly, Ph.D., a top-notch researcher at TSRI and the Lita Annenberg Hazen Professor of Chemistry, is working toward a cure for Alzheimer's disease. He is usually in between six and seven in the morning, leaves about nine at night, and works on weekends.
Recently, Jeff decided to make Scripps Research the beneficiary designation of his retirement plan. He did so in part because retirement funds directed to heirs are subject to income and estate taxes, so heirs can sometimes receive as little as 30 cents on a dollar. Giving to Scripps Research instead avoids taxation, providing the Institute 100 cents on every dollar.
"It's pretty simple," said Jeff. "Scripps Research has been very good to me. I have no dependents and this is my way of giving something back in a way that will benefit society. Scripps Research needs philanthropic support for innovations in science and is one of the best charities around. I can't think of a better gift than improving the quality of life for humankind and pushing forward the frontiers of science."
A graduate of the University of North Carolina, Jeff was a professor of chemistry at Texas A&M University before coming to Scripps Research, and before that a researcher at The Rockefeller University.
"I was a good research person," said Jeff. "I liked going into the lab and discovering new things that excited me."
Outside work, Jeff enjoys racing his Porsche. Yet he says he takes far greater chances in the lab than he ever does on the track. The Scripps Research environment has allowed him to think big and tackle groundbreaking experiments.
"We have a unique environment here, because we don't have departmental boundaries like many other universities," said Jeff. "We do experiments that have only a one percent chance of succeeding. But that's the key to success in science."