Meet Our Donors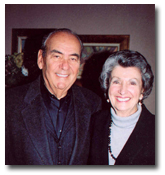 Making a Difference at Scripps
Sheldon and Izetta Magazine have been avid supporters of health causes for most of their lives.
"Years ago, when we lived in Washington, D.C., we fell in love with the National Jewish Hospital in Denver," says Sheldon, who served on the hospital's board, organized fundraising events for the hospital in Washington, D.C., and was active in fundraising for respiratory ailments, such as asthma, for many years.
"When we moved to California, we started supporting The Scripps Research Institute," Sheldon adds. "We had heard so much about Scripps' scientists. When we looked into them, we found their research was wonderful. We're very fond of the Institute - it's a great organization, and we're pleased to be able to help."
The Magazines have been so supportive of Scripps Research that a laboratory bears their name.
Through their charitable gift annuity, the Magazines have irrevocably transferred stock to the Institute. In return, the Institute makes fixed annual payments to them for life. The Magazines are also able to take an immediate charitable deduction for a portion of the gift's value.
In Washington, D.C., Sheldon worked for many years as a developer. He was also active in Big Brothers Big Sisters of the National Capital Area, the Boy Scouts, and the YMCA.
Sheldon and Izetta recently celebrated their 59th wedding anniversary. You'll often find them on the golf course and tennis court not far from their home in Rancho Mirage. They are extremely proud of their two sons and daughter - in fact, one son is following in Dad's footsteps and supports National Jewish Hospital.
"The best part about giving to Scripps Research is knowing the difference Izetta and I have made toward solving various disease puzzles and offering hope to those with devastating diseases," says Sheldon.