Meet Our Donors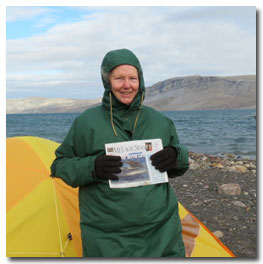 Explorer, Caregiver, Educator, Collector ... and Supporter of Medical Research!
La Jolla resident Eleanor Mosca is active in a variety of pursuits, and TSRI is thankful that medical research is one of them. A loyal TSRI supporter who frequents our events on recent scientific discoveries, Eleanor has been giving to TSRI since 1985. She is a great advocate of our work and is a member of the Scripps Legacy Society by virtue of her decision to support science at TSRI in her estate plan.
Eleanor's background includes positions as a registered nurse in Boston and Greensboro, North Carolina; a university educator in both nursing and sociology; and a counselor.
She and her husband Carlo moved to La Jolla in 1972 from Boston when Carlo accepted the position of Director of Education at Sea World. Internationally recognized for his work, Carlo had previously been the Director of Education and Graphics at the New England Aquarium and the Director of Exhibit Halls at Boston's Museum of Science.
Carlo passed away tragically at the age of 45 in 1984. He was the eighth patient diagnosed with AIDS in the United States and participated in the Alpha Interferon protocol at Sloan-Kettering. Carlo was the third patient given the drug and initially tested disease free for six months, but then died two months later. It is now known that treating AIDS with interferon resulted in no benefits to patients and probably accelerated the disease process in some. His illness and death spurred Eleanor's involvement at TSRI. Eleanor realizes that Alpha Interferon has proven effective in many other conditions and is a precise example of why it's important to give to TSRI and medical research.
A major portion of Eleanor's estate is designated to TSRI, with a portion going to Scripps Health, and some to the Friends of Mount Auburn Cemetery in Cambridge Massachusetts. Mount Auburn Cemetery, where Carlo is buried, is not only a cemetery, but a National Historic Landmark, a botanical garden, an outdoor museum of art and architecture, and an important habitat for urban wildlife.
"Medical research is extremely important to me," said Eleanor. "I've always been interested in research of all sorts and started attending lectures at Scripps when Carlo passed away that enhanced my medical knowledge."
"I contribute to research at TSRI because I feel it's the building block for improved health and saving lives," Eleanor continued. "Medical research is often serendipitous - the most significant research usually comes about when people are looking for something else entirely. Many diseases in our lifetime would not have been cured without multi-disciplinary science. What I like about TSRI is that it furthers science by integrating various disciplines like biology, chemistry, physics, and molecular biology."
Eleanor volunteered at the San Diego Humane Society for twelve years. The proud owner of three cats, she is the author of "The Cat's Tail", in honor of her cat "Brick" who passed away in 2010. It's an amusing paperback book on the travails of a stray cat trying to survive before being adopted. Told from the cat's perspective, it's dedicated to the humans who provide food, shelter, care, and companionship for our feline friends. Proceeds from the book went to various cat care organizations around the country.
Her home is a virtual museum - it's filled with various collections, including an array of old-fashioned wooden duck decoys, hand carved shorebirds, tapestries, her own nature photographs, and Intuit art and artifacts. Eleanor lectures about her numerous Arctic explorations (having covered most of the Arctic through her 16 expeditions, some via dog sled). But before her next trip, she is sure to be seen at the next TSRI event!