Meet Our Donors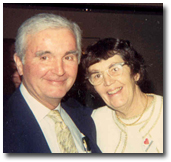 The Excellence of Scripps
Alice Volechenisky and her late husband, Mike, have always been fascinated with science. In fact, when the Volechenisky's decided to contribute over $1 million to charity by setting up charitable gift annuities, they chose Scripps Research as the major beneficiary. Mike and Alice's gift will be used for biomedical research at the Institute.
Before his passing, Mike chose to devote a large portion of their philanthropy to Scripps Research because he believed that Scripps' outstanding researchers and scholars have contributed many seminal discoveries and will continue their superior efforts in their chosen fields. As Mike remarked "There are always new things to discover and we hope our gift will help - you can take one peel off the onion, but there's more to follow."
Through the charitable gift annuity to Scripps Research, the Volechenisky's have irrevocably transferred assets to the Institute. In return, the Institute makes fixed annual payments to them for life. The Volechenisky's were also able to take an immediate charitable deduction for a portion of the gift's value.
Mike believed that their gift annuity was a good investment because it eliminated his concerns about constant investment decisions, as the endowment assets of the Institute are professionally managed. Mike remarked that their annuity "allows us to make a lasting contribution to science, while still providing a safety net of income for us should we need it." The Volechenisky's liked their charitable gift annuities so much that they set up another gift annuity in Alice's name in 2011.
Finishing service in the Army Air Corps as a pilot of B-24 and B-17 bombers during 30 missions over Europe in World War II, Mike chose to conquer the financial world. He spent almost two years in New York working on the New York Stock Exchange when the daily volume was between 500 and 700 thousand shares per day. He then decided to return to his home town and went to work for the F.I. DuPont Company's Elmira, New York office, where he worked for 21 years.
Mike was an accomplished woodworker - much of the Volechenisky home was furnished with his beautiful work. Mike built mostly mahogany reproductions of classical designs, with Chippendale a favorite. Mike and Alice were married for over 55 years and traveled all over the world to the Soviet Union, Argentina, Uruguay, and Paris - preferring the first-hand experience to merely reading about exotic locales.
Alice is a retired school teacher and currently resides in Gilbert, Arizona. She enjoys cross stitching amongst a variety of other interests. Alice continues to realize the benefits of their forward thinking by establishing a charitable gift annuity, and recently made an additional commitment to Scripps Research by including the Institute in her estate plans. Alice also avidly supports her alma mater, Bucknell University.
Their gifts are helping propel scientific discovery, which will benefit millions of people the world over.
*In Memoriam: Mike Volechenisky passed away on June 11th, 2013. He is survived by his wife, Alice, of Gilbert, Arizona.